Raise funds for your charity with a George Rodrigue silkscreen Print!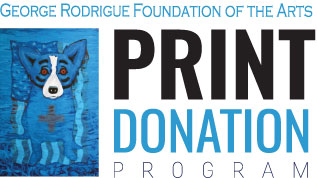 Since 2009, GRFA's Print Donation Program has helped hundreds of other non-profit organizations raise millions of dollars at fundraising events through the use of George Rodrigue prints at auctions, raffles, and more. This collection of seven Estate Stamped George Rodrigue prints are designated exclusively as a fundraising vehicle for other non-profits.  Due to the coronavirus outbreak, non-profits all over the country have suspended operations, cancelled fundraising events, and are struggling to secure plans for the future.
In order to continue to raise funds for other 501(c)3 non-profit organizations during this challenging time, GRFA is allowing the sale of Print Donation Program prints, for a limited time. The Seven Estate Stamped George Rodrigue prints from the Print Donation Program are available to purchase for $1,000 plus tax, shipping and handling. 50% of each purchase ($500) will be donated to the non-profit organization of the buyers choosing.
Please fill out the form below to purchase a print and select an organization to receive your donation. Please email [email protected] with any questions or for more information.
Attention Non-Profits and Non-Profit Supporters! Please pass this announcement along to your George Rodrigue fans and art lovers, and encourage them to participate in the Print Donation Program by purchasing a print, and designating your organization to receive the 50% donation from their purchase. This is great way for your supporters to donate to your organization, and gain a piece of George Rodrigue art at the same time. This offer is only available for a limited time to assist non-profit organizations during this difficult time. Once organizations are able to resume normal operations the Print Donation Program will revert to its standard format, and prints will once again only be available for purchase by 501(c)3 non-profit organizations.

How to Order
Step 1:  Purchase Your Print for $1,000
Step 2:  Donate $500 of your purchase to the charity of your choice.
Rodrigue Estate Stamp
The Estate of George Rodrigue created a proprietary ink to stamp on print editions originally designed by George Rodrigue and released by the Rodrigue Estate posthumously.  The one-of-a-kind ink formula includes several security measures that guarantee the authenticity of Rodrigue Estate editions.  The stamp measures approximately 1.5 x 3 inches and is screened directly onto prints issued by the Rodrigue Estate.  Under differing wavelengths of light the stamp will react according to the diagram below.  All prints are also accompanied with a certificate of authenticity.