Raise funds for your charity with a George Rodrigue silkscreen Print!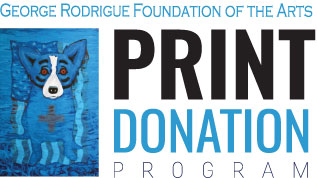 Since 2009, the GRFA Print Donation Program has helped over 1,000 organizations raise over $3 million at their fundraising events through silent auctions, raffles and more!
GRFA allows the purchase of a George Rodrigue silkscreen print of your choice from the Rodrigue Estate for $500. These prints have raised thousands of dollars at fund-raising events. As part of this unique program, if the print you purchase does not provide the organization with funds exceeding the original $500 investment, then GRFA will accept the print's return and refund the $500.
These prints are specifically designed as a fundraising vehicle for non-profits to raffle or auction directly to their supporters. They are not for sale in any Rodrigue Gallery and are only accessible to the general public through this exclusive opportunity for non-profit and charitable organizations.
New Signed Print now available! "Louisiana ArtWorks" silkscreen print, numbered and signed by George Rodrigue, now available through the Print Donation Program. Limited quantity available. See below for details and to place an order.

How to Order
Step 2:  Once you submit the form, GRFA will review your information, and if approved, contact you within three (3) business days via email to complete your order.
Rodrigue Estate Stamp
The Estate of George Rodrigue created a proprietary ink to stamp on print editions originally designed by George Rodrigue and released by the Rodrigue Estate posthumously.  The one-of-a-kind ink formula includes several security measures that guarantee the authenticity of Rodrigue Estate editions.  The stamp measures approximately 1.5 x 3 inches and is screened directly onto prints issued by the Rodrigue Estate.  Under differing wavelengths of light the stamp will react according to the diagram below.  All prints are also accompanied with a certificate of authenticity.