How We Help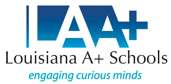 GRFA supports Louisiana A+ Schools, which is a research-based whole school network with a mission of nurturing creativity in every learner through an arts-integrated school network.  Louisiana A+ Schools is a non-profit 501(c)3 organization.
Visit Louisiana A+ Schools Website
Impact of Lousiana A+ Schools
25 A+ Schools in Louisiana
900 teachers / 13,000 students
Watch this brief video below to see what students at LAA+ Schools have to say about arts integration, academic success, and having fun in the classroom!

THE HISTORY
A+ Schools began in North Carolina over 20 years ago with the vision of transforming schools and valuing the arts by integrating them into traditional classrooms. Since then, the A+ method has been implemented in over 180 schools across North Carolina, Oklahoma, Arkansas, and Louisiana.
Louisiana A+ Schools began in 2013 as an initiative of the George Rodrigue Foundation of the Arts (GRFA). In 2017, after several years of success, the Rodrigue family transitioned LAA+ into its own public non-profit organization to ensure the growth and long-term sustainability of the mission. LAA+ is supported by GRFA and the leadership of a diverse statewide board.