The Dufrocq School unveils "The George Rodrigue Media Center" as a tribute to the man and artist who ardently supported and encouraged the arts in education.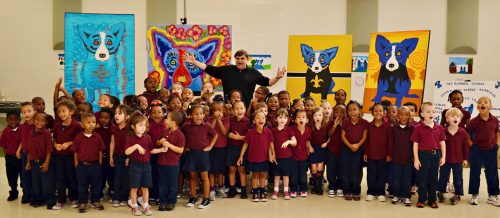 In 2011 artist George Rodrigue (1944-2013) visited The Dufrocq School, a LAA+ School in Baton Rouge and painted with students.
Thursday, November 8th, 2018
10:00 a.m.
The Dufrocq School
330 S. 19th St. Baton Rouge, LA
Reception follows
Free and Open to the Public
Please R.S.V.P. to [email protected]
Join the Rodrigue Family, including the artist's widow Wendy, and sons André Rodrigue and GRFA Executive Director Jacques Rodrigue, with Dufrocq School Principal Mary D. Robvais, LAA+ Schools Executive Director Bethany France, and distinguished members of the Baton Rouge community, for this special occasion honoring artist George Rodrigue.
The Dufrocq School is a member of Louisiana A+ Schools, advocating whole-school arts integration, supported in part by the George Rodrigue Foundation of the Arts.
In 2011 artist George Rodrigue (1944-2013) visited The Dufrocq School and painted with students (pictured). His foundation continues to support Louisiana A+ Schools, teaching all subjects through the visual and performing arts. As of 2018, there are 21 LAA+ Schools statewide. Learn more- www.aplusla.org