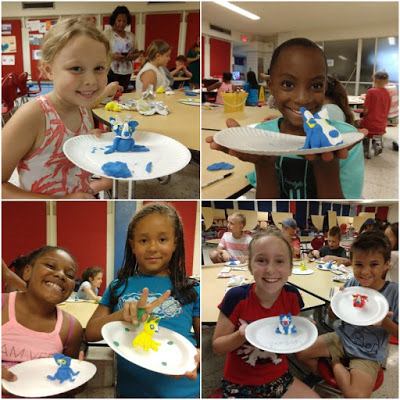 Bonjour NOLA Campers use Crayola Model Magic to create small, three-dimensional Blue Dog sculptures.
Last week the George Rodrigue Foundation of the Arts made a special visit to Lycée Francais de la Nouvelle-Orléans to share the art of George Rodrigue with their Bonjour NOLA Summer Camp. As part of our presentation, we shared information about the history of the Acadian and Cajun people, as well as how their historic legacies impacted the life and artwork of Rodrigue.
Campers learned about the origin of the iconic Blue Dog, which began as Rodrigue's interpretation of the Cajun loup-garou legend. They then used primary colors to sculpt their own version of the Blue Dog. We loved spending the afternoon with this creative and curious group of campers!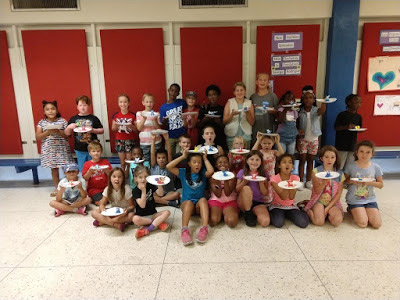 Bonjour NOLA Campers pose for a group photo with their finished Blue Dog projects.
Simone Feaster-Armour, LFNO's Teacher of Gifted
Services, shares about the project:
"At LFNO's Bonjour NOLA Summer Camp, we learned how Louisiana native George Rodrigue showed his love of Cajun culture through his art. Campers created their own unique sculpture based on Rodrigue's famous Blue Dog. This activity aligned perfectly with not only New Orleans' 300th anniversary, but also with our camp theme 'La Francophonie: or The French-Speaking World.' "